Ecuador
The field research to Ecuador, started in 2016, when serious disagreements in Europe were installed by different nations to honor the Paris Agreement, formulated during the Climate Change Conference in 2015. Most of the countries accepted and signed this protocol, however there was no strategy that could insure international compromises to provide a clear framework to reduce fossil emissions to counteract the effects of Climate change.
It was clear that environmental legal tools were a ultimate need to prevent more harm. Despite the few movements which have emerged to hold governments accountable, such as Urgenda and Climatzaak. Yet, in 2016, there was only one country in the world with the rights of nature in the constitution, Ecuador and no country in the world declaring Ecocide as the 5th missing crime in the Roman Statute.
As a citizen I couldn't interfere directly, who is there to blame or even restore? Governments, corporations, consumers? Is there a legal framework to hold perpetrators accountable for environmental crimes? How to understand the complexity behind all the destruction of the earth?
That was the moment I've decided to make a field research to Ecuador and US.
The research was an attempt not only to unveil the layers behind environmental colonialism, oil extractivism and violent occupations of territories, but also to relate to a European context as we are considered the top number one of oil consumers of the planet.
Ecuador because it is the only country in the world with the rights of nature in the constitution, it's economy is based in oil extraction, it has suffered from one of the major oil spill in the amazon in the 60's and i've heard of one of the most inspiring juridical case with indigenous community who prevent a company to extract in their land, Sarayaku community. With this three points of focus, I could understand the temporality of an environmental crime, a case that happen in the past and is effecting the present, a case that was prevented by the power and unity of a community.
I went on a discovery, a search of truth, love, and empathy.
1. A crime that happened in the past affecting the present: Lago Agrio Case
Context: Ongoing devastation: Chevron oil spill in LAGO AGRIO, Ecuadorian amazon 1964 -1990
One of the worst cases of oil spills on the planet happened in an isolated part of Ecuador, Chevron and Texaco dumped billions of gallons of toxic wastewater into the rainforest. Today, this waste threatens five indigenous groups with extinction. During two decades of contamination, the toxic contents of the waste pits have leeched into the groundwater, streams and rivers, contaminating the larger ecosystem. Local people depend on the water to survive, so they have no other choice as using contaminated water resources. Thousands of people have been poisoned, not only from the water but also by breathing the air from the pits. Most of the people around this area are suffering from cancer and childhood leukemia rates are four times higher in this area than in other parts of Ecuador; children as young as a few months of age have died of leukemia.
Today, Chevron is a corporate criminal on the run. It has been found guilty by Ecuadorian courts and ordered to pay $9.5 billion. However, the company is defending itself against false allegations, according to the company activist groups and lawyers have used images of oil spills and indigenous people in the Amazon to mislead the public.
More info:
Victims defense argument: http://chevrontoxico.com/about/rainforest-chernobyl/
Perpetrator defense argument: https://www.chevron.com/ecuador/
Field research interviews with:
Victims in direct contact with the oil spill.
Pablo Fahardo, the lawyer of UDAPT
 and Donald Macayo, an activist and executive member of UDAPT

2. A crime that was successfully prevented: Sarayaku Case
Thanks to the power of nature protectors, not all the Amazon is lost and in the depth of the jungle there are also indigenous communities who manage to protect their land from companies and who told me that the only way they are preventing capitalism to come is to not build roads, to keep it inaccessible from both sides, a tiny line, for them the only way is either to escape or never get in contact with. Sarayaku community is functioning the same way as birds, they have always a big bird watching them, telling them the directions, allowing them to have visions. There everything is natural, there is no difference between a human and nature. I felt a true feeling of love and harmony.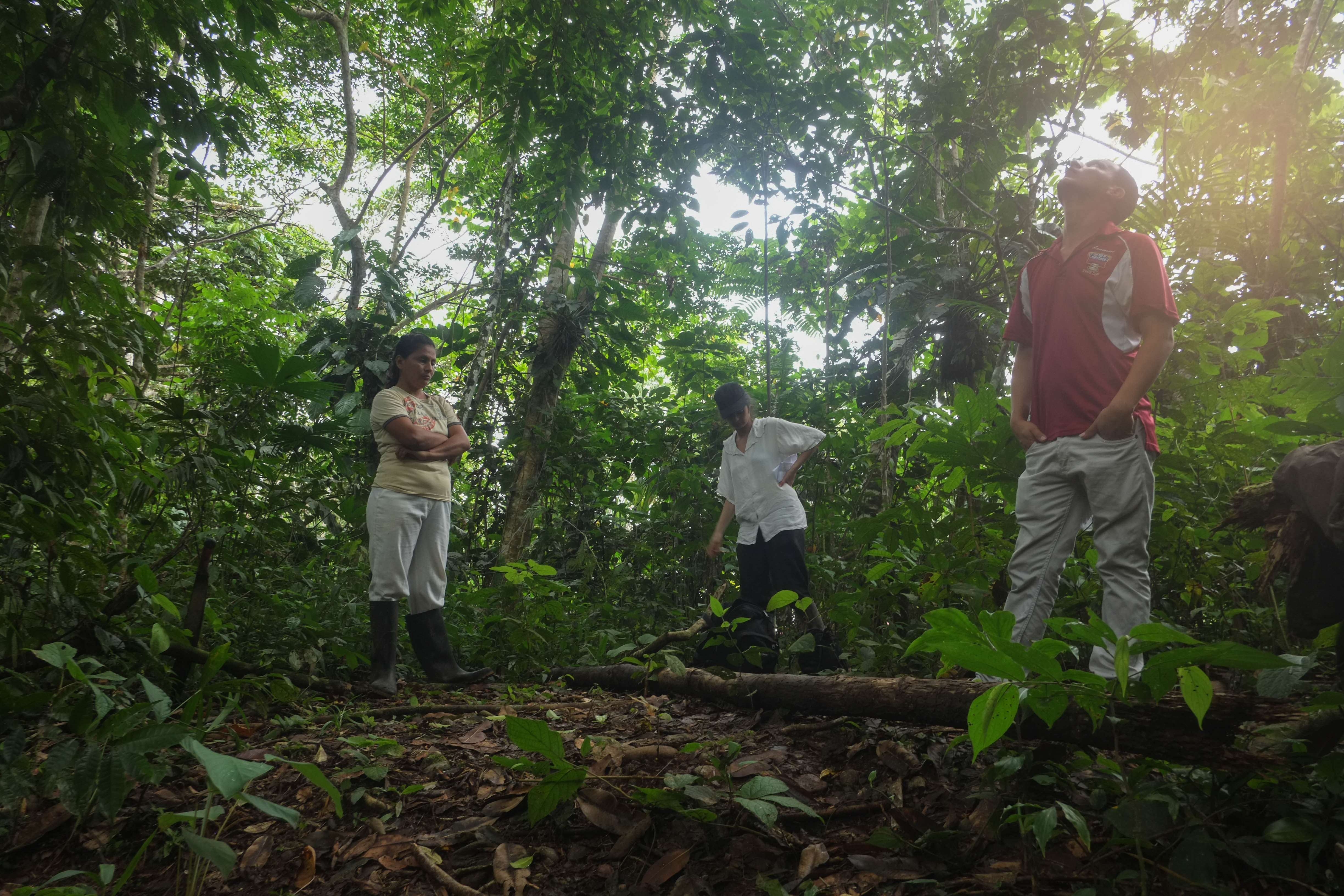 Context: A case of victory: Ecuadorian government, granted a concession to Argentine oil and gas company Compania General de Combustibles (CGC) in 1996 without any process of consultation or consent from the community.
Sarayaku is an indigenous community defending its territory, deeply connected to nature, holding promise for humans to save themselves from global warming and extinction, living in harmony with the natural world and insisting that nature has rights deserving of protection. They are a form of resistance and an example of successful case in court, as they won a court case against an Argentinean company. They prevented this company from invading their lands, by using the potentials of law and by claiming new forms of resistance, as claiming technology as their main weapon. Using media and international support, and mostly non-violent communication. They are supported with a strong team of lawyers such as Mario Melo and Juan Auz and international committees.
More info on their case: www.culturalsurvival.org/publications/cultural-survival-quarterly/confirming-rights-inter-american-court-ruling-marks-key
www.pachamama.org/advocacy/sarayaku
Field research interviews with:
Patricia Gualinga: Sarayaku leader and international relationships / 
Franco Viteri: Former president of Sarayaku and CONFENAI /
Narcisa Simona Gualinga: Dirigent of Ancient Wise Leaders Sarayaku
 / Jose Gualinga: Former Leader of Sarayaku /
Eriberto Gualinga: activist filmmaker from Sarayaku / Juan Auz: Lawyer
Back in Belgium:
I went on a journey to understand what ecocide is and what nature rights are? Discovering the sacred lands of indigenous and how they are the only people left on this planet who are actually protecting our right to exist. However, at the same time, they are the communities who are the most affected and threaten. Who would tell a child that he/she would get killed by protecting nature? Who would tell the future generations that they could die or go to jail while defending their territory? Acknowledging that we can only decolonize nature if we are able to decolonize our selves, I'm back in Belgium with a wish of catharsis and pure transformation.
How can we best represent nature in a court?