Cosmic diplomacy- Guardian of nature lecture
A tale about a durational transformative process of a human trying to become a legal representative of entities that does not speak the same language as humans.(rivers, mountains, plants, oceans...). But law is not justice and language is not a common practice. How can we dialogue with one another? This research is an immersive tale on the transformative processes of becoming kin with natural habitats.
During this lecture-tale you will discover different gateways of sensing other than humans, performing rituals of kinship and stewardship referencing different contexts, from comic books to folk tales, indigenous jurisprudence and contemporary activistic movements.
As a reference, it will be shared a personal story of one year durational process of multispecies embodiments as an attempt of dehumanizing, decolonizing of the self as a response to (re)animating and (re)concealing with nature.
A brief description of the process to become a guardian of nature: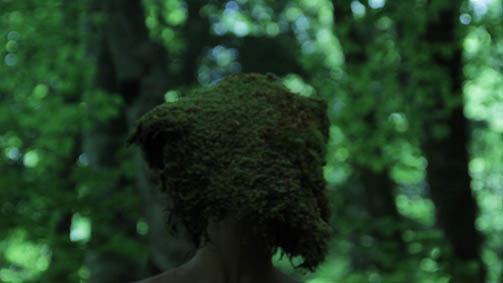 The idea of guardianship, is a response to the many legal challenges we face to represent legally other then humans. Juridically, in a court room is needed a "guardian" to speak in behalf of nature as a legal entity, as a similar status is applied legally to the guardian of an orphan. As challenging as it may, clearly to be the spokesperson of nature, a transformation of the individual is needed. In the same way as a judge or a lawyer would need to rethink its notions of humans as part of interconnected ecosystems.
It started when I've decided to experience the ecosystem differently, and went on a journey to collect stories through individual conversations with victims of environmental crimes, nature-protectors, activists, lawyers and spiritual leaders. Among them, Sarayaku community (EQ), UDAPT(EQ) and Sioux, Standing Rock (US).
The first year personal contract of becoming a guardian was mentored by Starhawk and Demetra, with inspiring pagan rituals, goddess mythology, plant wisdom, animistic exercises and magic and it started in the summer solstice of 2017.
more info on the legal procedures to become a guardian in a european context:
on Legal procedures to become a guardian in a European context
"To reclaim means to struggle but also to heal and become able to confront what you struggle against without becoming like it. To win, then, would not mean that you have proved stronger than the other, by using the same kind of force. It would mean that you have connected with other forces, or cultivated the resurgence of forces we were separated from. Resurgence is a very interesting word, which connects a past marked by eradication and the event of the return of what should have been destroyed—not as the identical same but as gifted with the capacity to challenge the state of affairs that took for granted its disappearance."
Isabelle Stengers